Principal Clinical Psychologist at Psychology Health Studios.
Mr. Phillip Lathopolous is a Clinical Psychologist and Psychotherapist with experience in the treatment of the spectrum of Anxiety and Mood Disorders.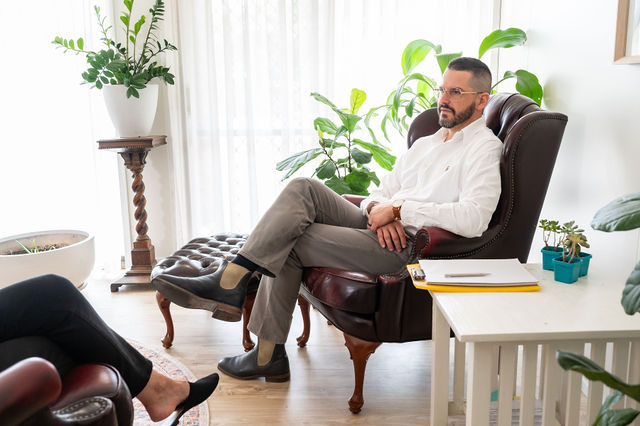 He also has a special interest in illness and well-being linked with the Mind-Body Connection (i.e. manifestations of psychological and emotional suffering within the physical body).
In practice he utilises an integrated therapeutic approach, combining elements from a number of therapies tailored to the needs of each individual therapy, with a special interest in employing psychodynamic psychotherapy to increase awareness of unconscious parts of the self which are impacting upon one's emotions, behaviour, and experience of reality, and the use of EMDR to shift emotional experiences which remain frozen in the past.
Mr. Phillip Lathopolous has honed experience as a practicing Psychologist since 2005 and has experience across a range of mental health services and settings, including:
Private Practice
Public Community Mental Health Teams
Mental Health Inpatient Wards in both Private and Public hospital settings with adults, adolescents and children.
University Community Psychology clinics, and group programs within private mental health facilities.
Mr. Phillip Lathopolous approaches therapy with the belief that it is possible to expand freedom and choice by helping people to become more aware, tolerant, and in touch with their experience in the here and now.
QUALIFICATIONS AND AFFILIATIONS
Clinical Psychologist & Psychotherapist
Certified EMDR Institute Practitioner
Grad Dip Psych, Post Grad Dip Psych, M Clin Psyche, MAPS, CCLIN
Member of the Australian Psychological Society (APS)
Member of the APS College of Clinical Psychologists
Medicare
Open Arms (formerly Veterans and Veterans Families Counselling Service – VVCS)
Department of Veterans Affairs (DVA)
Private Health Funds